This past week, I have had terrible morning sickness…which, more times than not, turns into all day sickness.
(I have lost 8 lbs since my last doctor's appointment 3 weeks ago. Does that tell you anything??)
Result: I have been right here all week long.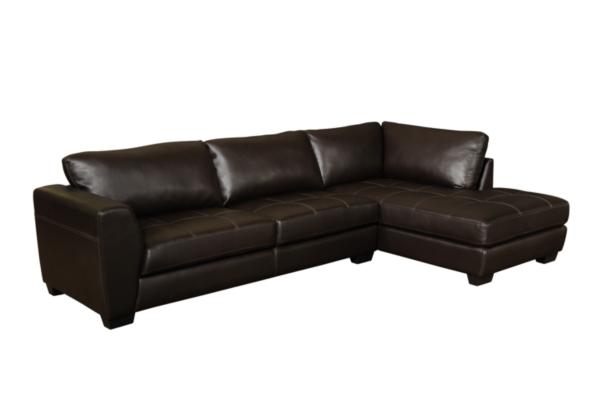 This is our new couch we just bought a few weeks ago.
And I'm too sick to even get up and take my own picture of it. I took this from the website. How sad.
But that couch definitely makes things a lot better! It's HUGE, super comfy, and it has a comforting smell of leather that has yet to make me nauseous. Let's hope it stays that way! According to Mitch, I can smell EVERYTHING!
So although I'm stuck here 99% of the day, it is at least a decent place to be considering my circumstances. We are getting our money's worth, that's for sure!
As I have spent time laying on our couch, I have also spent time browsing the internet for baby things. I'm sure you all will agree with me that, oh my gosh! You can get sucked in to surfing the web…especially when it's something like cute baby stuff!
The one thing I'm browsing these days is nursery ideas. I'm craving inspiration even though we still have about 7 weeks until we find out the gender of our baby.
Here are a few things I have found that stuck out to me:
I LOVE this frame set up that is right above the crib. Especially the "n" frame.
I found this while perusing through Project Nursery. The owner of this room found all these frames at a local thrift store for $5.00 and spray painted them! That's my kind of decorating. I will keep this in mind as we prepare for our nursery.
Here is another room I was drawn to. I'm not sure exactly why. Maybe the color? Brightness? Vintage/glamour?
Maybe it's the chandelier. Not sure. But it's cute.
Now this one you have to go check out the entire room's detail.
I think this is SO cool! Go here to see more pictures of the room and how she designed it. The rug is amazing! I like this one the best.
There are so many kinds of nurseries out there. I still haven't been able to pick out my "style" yet and I'm sure that will become easier once I know what gender we're workin' with here! But it's still so much fun to look! Especially when the rest of my chores are near impossible to do right now because I'm so sick throughout the day.
Here is a little update on what's going on with momma and baby:
We heard Stewby's heartbeat on Friday! That was amazing! Mitch was so giddy! He recorded it on his phone and I can email it to people, but since it's a sound file I can't seem to find a way to upload it here or on Facebook. Sad day. But Stewby's heartbeat was 153 bpm. And my midwife says he/she is very active because she had a hard time keeping him/her on the doppler long enough to hear the beating for an extended period of time! All my blood work came back great. Apparently I am immune to measles! Yay! I am on the verge of becoming a bit dehydrated since I am having a hard time keeping anything down. But I'm working very hard on fixing that problem! The doctor wasn't worried…yet.
At 12 weeks, Stewby is the size of a plum…
Baby's now the size of a plum!
As you move into the second trimester, baby shifts into the growth and maturation stage. After weeks in the critical development stage, almost all of her systems are fully formed.
We are fast approaching 13 weeks on Tuesday. I go back for a monthly checkup in April. And then in about 7 weeks we will have our first ultrasound and will find out if we are expecting a little Mitch or a little Lianne. I will be thrilled with either one. I just want a healthy baby!