Another week, another fun link up with the adorable Jenna over at The Life of the Wife!
I think I'll join in on the fun again 🙂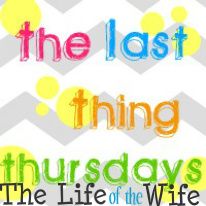 So, hurr we go…
---
The last instagram photo I took:
She was making me some lunch on her new plate that her GiGi (great-grandmother!) gave her in her Easter bucket.
The last thing I found to motivate me:
Seriously, guys. Check this website out. It is completely free. And amazing. If you're looking to lose or maintain weight and live a healthy lifestyle, this is for you!
You can track your fitness, nutrition, and weight. There are calorie counters and meal plans. Grocery lists and workout plans. Motivational groups and challenges to join. Not to mention you keep track of your 8 glasses of water you should be drinking!
And there is a ton more stuff I haven't even learned about yet that this website offers!
Loving it so much!
The last text conversation I had:
…was with my handsome fella.
Oh goodness. Lydia is growing every day. And it's hard to except sometimes! I walked in this morning after her nap and she was trying to pull herself up on the side of her crib. Which means we have to take it down a notch or two so she can't pull herself up and out!
Where is she learning all this?! And where is the time going?! My baby is growing up! Waaaaahhh!!!!
To see more pictures like the one above, check out Lydia finger painting here! It's super cute. And the finger paint is homemade…so it's safe if eaten!
The last thing I drooled over:
Petunia Pickle Bottom Diaper Bag from Pottery Barn Kids.
Please, oh, please may I have this?!
Thanks so much!
The last thing I cleaned:
was my refrigerator.
It's stainless steel. And it can get fingerprints on it very easily. And I am obsessed with cleaning it and seeing it all shiny and pretty looking.
And I can only wonder how long that will last! But for now, I love to clean it with stainless steel cleaner!
The last email I received:
was from Babysteals.com
offering some adorable hats for the kiddos as today's steal!
Check it out before they sell out!
---
Alrighty then. Now I am on my way to run some errands with this precious little thang:
Happy Friday Eve…a wonderful day!